We recently had a long-time customer share a her wonderful feedback on our dealership and share her detailed history of the relationship she's had with the store over the course of the years. She specifically pointed out her patronage of our service department, not to mention the Honda vehicles she's purchased. Ms. Lynn Bemer Coble's thoughtful review exemplifies the very relationship we aim to have with all of our customers.
The feedback and reviews we receive from our customers are invaluable because they're first-hand accounts of their experiences with us. The feedback lets us know what we're doing right and/or what areas of our business we can improve upon. We had a customer who described the positive and great experience they had with our team here at Crown Honda Greensboro, and we wanted to share their words of affirmation.
All feedback is appreciated and welcomed so that we know how best to serve our customers. We truly appreciate the positive testimonials and reviews we receive from customers because we really do aim to build and maintain such lasting relationships. We can't speak enough of how much we appreciate the loyalty and positive feedback!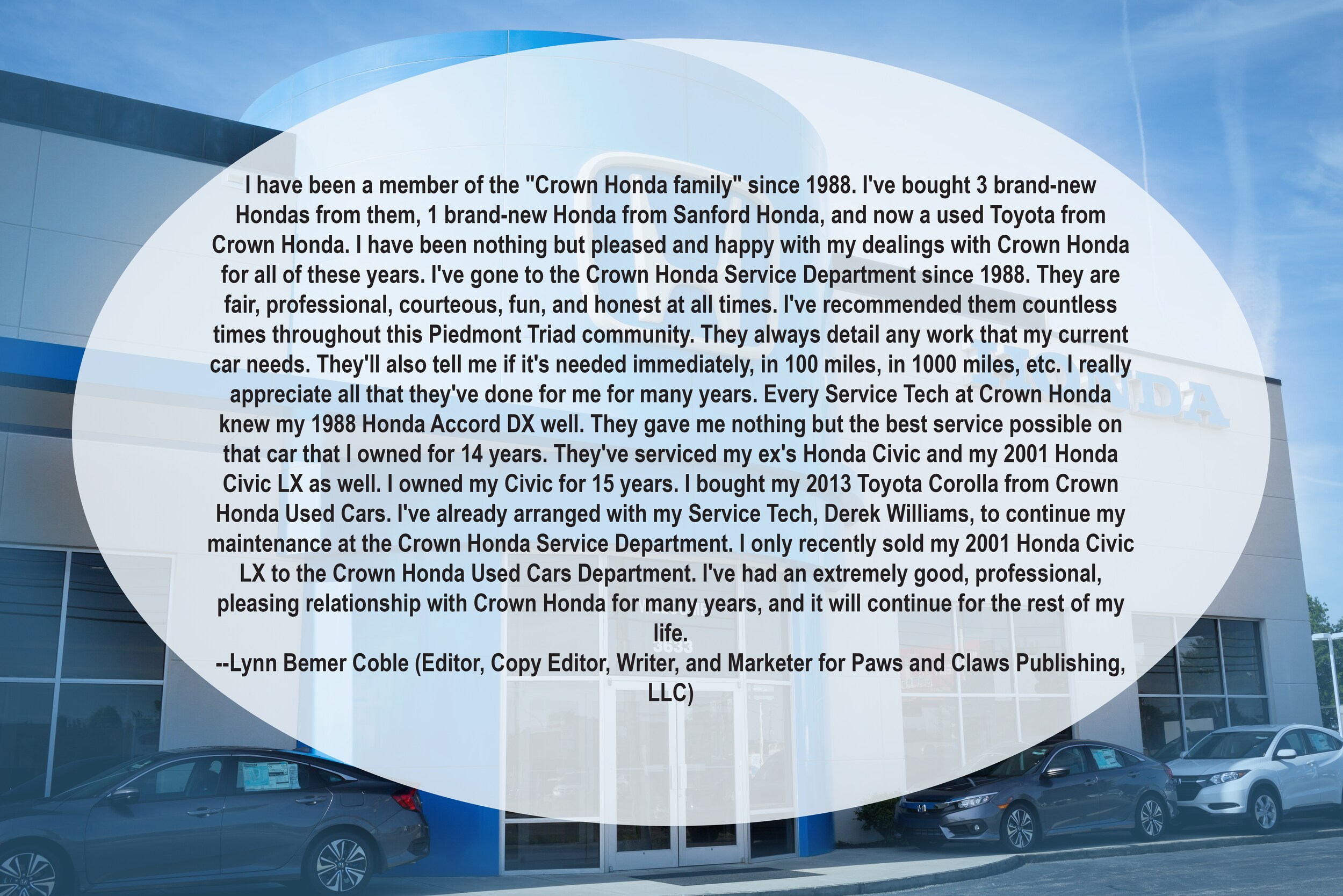 "I have been a member of the "Crown Honda family" since 1988. I've bought 3 brand-new Hondas from them, 1 brand-new Honda from Sanford Honda, and now a used Toyota from Crown Honda. I have been nothing but pleased and happy with my dealings with Crown Honda for all of these years. I've gone to the Crown Honda Service Department since 1988. They are fair, professional, courteous, fun, and honest at all times. I've recommended them countless times throughout this Piedmont Triad community. They always detail any work that my current car needs. They'll also tell me if it's needed immediately, in 100 miles, in 1000 miles, etc. I really appreciate all that they've done for me for many years. Every Service Tech at Crown Honda knew my 1988 Honda Accord DX well. They gave me nothing but the best service possible on that car that I owned for 14 years. They've serviced my ex's Honda Civic and my 2001 Honda Civic LX as well. I owned my Civic for 15 years. I bought my 2013 Toyota Corolla from Crown Honda Used Cars. I've already arranged with my Service Tech, Derek Williams, to continue my maintenance at the Crown Honda Service Department. I only recently sold my 2001 Honda Civic LX to the Crown Honda Used Cars Department. I've had an extremely good, professional, pleasing relationship with Crown Honda for many years, and it will continue for the rest of my life."
--Lynn Bemer Coble (Editor, Copy Editor, Writer, and Marketer for Paws and Claws Publishing, LLC)